$10 Off Air Conditioning and Heating Tune-Up
Call (208) 578-4808 For More Details.
Heating System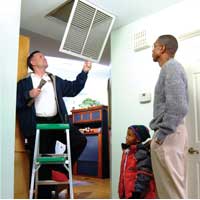 A variety of different heating systems are available for your home. Heat Pump heating systems are for climates with moderate heating and cooling needs. Heat pumps offer an energy efficient alternative to furances and air conditioners. Heat pumps use electricity to move heat from a cool space to a warm space. Heat pumps can trim the amount of electricity you use by as much as 30% to 40% according to energy.gov
Your home's furnace and air conditioner is one of the most expensive appliances you have in your home. Home heating and air-conditioning systems control the temperature, humidity, and air quality in your home. These systems consist of complex mechanical, electrical, and electronic components, such as motors, compressors, pumps, fans, ducts, pipes, thermostats, and switches.

How Was Your Experience?


Other's Experiences with One Hour Heating & Cooling , Idaho
Average Rating
4.83
out of
5
stars based on 58 reviews. Displaying a total of:
7
reviews.





Rob F., New Plymouth
Absolutely performed far above anything I expected.





William & Pat J
""The new furnace and heat pump have performed beyond our expectations. Our electric energy use dropped by 65% for heating and 25% for cooling. This translated into a drop of $99 per month on our level pay electric bill. In addition, our house is much more comfortable. We couldn't be more pleased with the service and professionalism of Youngberg's and their technicians, and recommend them very highly.





Paul & Shirley S., Payette
It was actually a pleasant experience. We're happy to recommend your company to anyone!





Melissa S
Dale - Great job.





Florence C, Payette
Dale very courteous.





Betty T
Dale Appreciates his politness & my dog likes him.





Jerom J, Parma
Reliable Quick Service. Tech: Dale