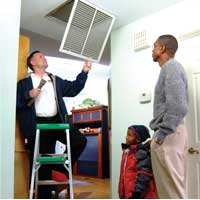 Heating
We are a leading firm for servicing your existing furnace, or those looking for buying a new one. We are recognized as one of the top quality home heating and cooling firms in the area. As such since receiving the prestigious Technician Seal of Safety award you can know you are dealing with quality professionals, and that your safety, family and the well-being of the security of your home will be protected.
Air Conditioning
Air-Conditioner Tune-Up, Cleaning and Safety Inspection
Keep Your Air-Conditioner at Peak Efficiency with an Annual Tune-Up
Tune-up your air-conditioner and Youngberg Heating & Cooling guarantee you a 100% profit in energy savings – or your money back!
HVAC
seamlessly Getting an HVAC system built correctly is an Engineering Science. Heating, Ventilation, and Air Conditioning and Air Quality all need to work together seamlessly to keep a healthy and comfortable internal space. With over 30 years in this business Youngberg's One Hour has the experience from continuous training to make sure that you can get the best system possible for your home or office.
No Lemons Guarantee If the compressor in your air conditioner fails twice in the first five years, we will install a complete and new outside unit. If the heat exchanger in your furnace fails in the first ten years, we will install a new furnace.
One Hour Heating & Cooling proudly serving Payette, Parma, New Plymouth, Sweet. We provide Heating, Air Conditioning, and HVAC.