$10 Off Air Conditioning and Heating Tune-Up
Call (208) 578-4808 For More Details.
Heating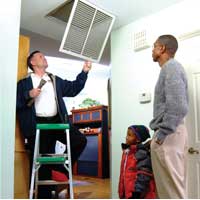 Safety First
A defective furnace can emit dangerous levels of carbon monoxide. Carbon monoxide is an odorless, colorless, deadly gas. It can kill you before you know it because you can't see it, taste it or smell it. At lower levels of exposure, it can cause health problems. Some people may be more vulnerable to carbon monoxide poisoning such as fetuses, infants, children, senior citizens and those with heart or lung problems.
Comfort Guarantee We guarantee that the system(s) we have installed in your home will heat or cool your home as we have stated. If the temperature range we have promised is not achieved, we will replace the system at no charge.

How Was Your Experience?


Other's Experiences with One Hour Heating & Cooling , Oregon
Average Rating
4.83
out of
5
stars based on 58 reviews. Displaying a total of:
10
reviews.





Dan Winder
Brandon & Jason Your employees did excellent work!





Colleen C
Brandon & Jason - Very professional.. Thanks!!





Unknown
Everything is great!!!





Dixie B
Dale - Neat appearance, friendly, courteous, effecient & helpful.





Paul & Shirley S., Payette
It was actually a pleasant experience. We're happy to recommend your company to anyone!





William & Pat J
""The new furnace and heat pump have performed beyond our expectations. Our electric energy use dropped by 65% for heating and 25% for cooling. This translated into a drop of $99 per month on our level pay electric bill. In addition, our house is much more comfortable. We couldn't be more pleased with the service and professionalism of Youngberg's and their technicians, and recommend them very highly.





Mrs. Bob C., Weiser
I appreciate the quick response. Tech: Bow










Robert L, Council
We are confident Bow did a good job.