$10 Off Air Conditioning and Heating Tune-Up
Call (208) 578-4808 For More Details.
Radiant Heating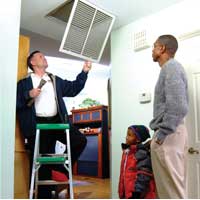 Radiant heating is a technology for heating indoor and outdoor areas. Heating this rout is observed each day by warmth of the sunshine being probably the most commonly observed. Radiant heating can be done via many different ways including under floor heating systems both electric and hydraulic, wall heating systems, and by radiant ceiling panels.
No Lemons Guarantee If the compressor in your air conditioner fails twice in the first five years, we will install a complete and new outside unit. If the heat exchanger in your furnace fails in the first ten years, we will install a new furnace.

How Was Your Experience?


Other's Experiences with One Hour Heating & Cooling , Oregon
Average Rating
4.83
out of
5
stars based on 58 reviews. Displaying a total of:
9
reviews.





Jerom J, Parma
Reliable Quick Service. Tech: Dale





Rob F., New Plymouth
Absolutely performed far above anything I expected.





Mrs. Bob C., Weiser
I appreciate the quick response. Tech: Bow





Jean N.
Your tech was personable, knowledgable and punctual. Tech: Bow





William & Pat J
""The new furnace and heat pump have performed beyond our expectations. Our electric energy use dropped by 65% for heating and 25% for cooling. This translated into a drop of $99 per month on our level pay electric bill. In addition, our house is much more comfortable. We couldn't be more pleased with the service and professionalism of Youngberg's and their technicians, and recommend them very highly.





Merlin M.
He does a good job. Tech: Dale





Glen V.
Great Job! Tech: Dale










Robert L, Council
We are confident Bow did a good job.