Air Conditioning Repair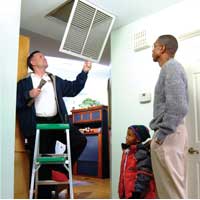 repairing Central Air Conditioners consist of two separate components the condenser and the evaporator. The condenser unit is located outside the hour typically. The evaporator unit is mounted in the main duct junction above the furnace. Most air conditioning repairs are required to these two components.
No Lemons Guarantee If the compressor in your air conditioner fails twice in the first five years, we will install a complete and new outside unit. If the heat exchanger in your furnace fails in the first ten years, we will install a new furnace.