HVAC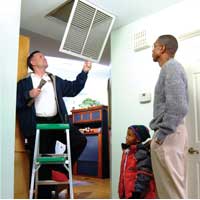 Also when it comes to maintaining your HVAC system, you will want to setup a cleaning and inspection every year. You wouldn't likely let your car go a year without a checkup and service. It makes sense then that with such an investment in an HVAC system, you will want to keep it running at its best. We also make that step super easy. Please call today let us prove why we have been a favorite for so long.
Size of the system and efficiency is vital when installing or when deciding to replace your HVAC system. There are so many manufacturers and technology choices on the market it is important to work with someone that knows them all and can find the best options for your situation. With One Hour Heating & Air Conditioning here in we can easily walk you through the process. From your first phone call today till the project is done, you will know you've chosen the best company to do this work for you.
No Lemons Guarantee If the compressor in your air conditioner fails twice in the first five years, we will install a complete and new outside unit. If the heat exchanger in your furnace fails in the first ten years, we will install a new furnace.