$10 Off Air Conditioning and Heating Tune-Up
Call (208) 578-4808 For More Details.
HVAC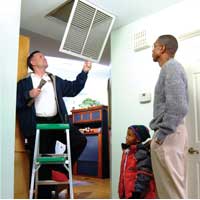 Also when it comes to maintaining your HVAC system, you will want to setup a cleaning and inspection every year. You wouldn't likely let your car go a year without a checkup and service. It makes sense then that with such an investment in an HVAC system, you will want to keep it running at its best. We also make that step super easy. Please call today let us prove why we have been a favorite for so long.
Your home's furnace and air conditioner is one of the most expensive appliances you have in your home. Home heating and air-conditioning systems control the temperature, humidity, and air quality in your home. These systems consist of complex mechanical, electrical, and electronic components, such as motors, compressors, pumps, fans, ducts, pipes, thermostats, and switches.

How Was Your Experience?


Other's Experiences with One Hour Heating & Cooling , Idaho
Average Rating
4.83
out of
5
stars based on 58 reviews. Displaying a total of:
11
reviews.





Bob & Bev S., Ontario
Of course the bottom line - we got a great job with wonderful, controllable, and quiet A/C and I'm sure the heating will be the same when that season rolls around.





Les M.
Very grateful in the tips and quick service. Tech: Bow





Marvin O.
Bow - Great personality.





Merlin M.
He does a good job. Tech: Dale





Glen V.
Great Job! Tech: Dale




Jerry P
It was goog! Dale sucked me into the maintenance agreement. His is a great rep for you business. At 100 plus we really appreciate Dale taking care of us so quickly!





Robert L, Council
We are confident Bow did a good job.





Dixie B
Dale - Neat appearance, friendly, courteous, effecient & helpful.





Rob F., New Plymouth
Absolutely performed far above anything I expected.





Leslie Donahoo
Bow - Bow was very professional & courteous.





Fred T.
Dale - Very good service and good response