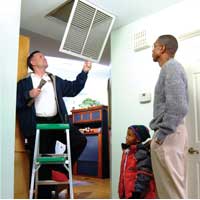 Heating
Efficiency of your furnace is crucial when looking at repairing or even replacing your furnace. With so many choices out on the market it is important to research and understand options that are available for you. With One Hour Heating and Air Conditioning based in Idahowe can educate you on what is available on the market!
Air Conditioning
Having air conditioner troubles? Proper maintenance is worth every penny. If you are thinking it might be time to replace your system, check with us first. Our technicians can do wonders at repairing and optimizing Air Conditioning systems.
If the time has truly come to replace your system we will give you the best options for getting the job done right. With over 30 years servicing , Idaho Youngberg's One Hour Heating & Air Conditioning will walk you easily through each step of the process.
HVAC
Size of the system and efficiency is vital when installing or when deciding to replace your HVAC system. There are so many manufacturers and technology choices on the market it is important to work with someone that knows them all and can find the best options for your situation. With One Hour Heating & Air Conditioning here in we can easily walk you through the process. From your first phone call today till the project is done, you will know you've chosen the best company to do this work for you.
Your home's furnace and air conditioner is one of the most expensive appliances you have in your home. Home heating and air-conditioning systems control the temperature, humidity, and air quality in your home. These systems consist of complex mechanical, electrical, and electronic components, such as motors, compressors, pumps, fans, ducts, pipes, thermostats, and switches.
One Hour Heating & Cooling proudly serving Caldwell, Emmett, Fruitland, Weiser, Middleton. We provide Heating, Air Conditioning, and HVAC.