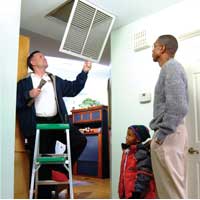 Heating
Efficiency of your furnace is crucial when looking at repairing or even replacing your furnace. With so many choices out on the market it is important to research and understand options that are available for you. With One Hour Heating and Air Conditioning based in Idahowe can educate you on what is available on the market!
Air Conditioning
Having air conditioner troubles? Proper maintenance is worth every penny. If you are thinking it might be time to replace your system, check with us first. Our technicians can do wonders at repairing and optimizing Air Conditioning systems.
If the time has truly come to replace your system we will give you the best options for getting the job done right. With over 30 years servicing , Idaho Youngberg's One Hour Heating & Air Conditioning will walk you easily through each step of the process.
HVAC
seamlessly Getting an HVAC system built correctly is an Engineering Science. Heating, Ventilation, and Air Conditioning and Air Quality all need to work together seamlessly to keep a healthy and comfortable internal space. With over 30 years in this business Youngberg's One Hour has the experience from continuous training to make sure that you can get the best system possible for your home or office.
$250 Installation Date Guarantee If we do not arrive to install your system by the date promised, we will pay you $250 for your inconvenience.
One Hour Heating & Cooling proudly serving Caldwell, Emmett, Fruitland, Weiser, Middleton. We provide Heating, Air Conditioning, and HVAC.