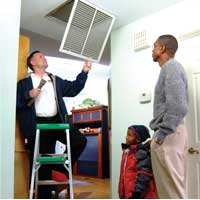 Heating
Efficiency of your furnace is crucial when looking at repairing or even replacing your furnace. With so many choices out on the market it is important to research and understand options that are available for you. With One Hour Heating and Air Conditioning based in we can educate you on what is available on the market!
Air Conditioning
We are recognized as one of the highest rated home Heating & Air Conditioning firms in the area. As such we have received the prestigious Technician Seal of Safety award and are a top Rated Better Business Bureau company. You will know from the first phone call that you are dealing with quality professionals, and that your comfort and safety are a top priority.
HVAC
Also when it comes to maintaining your HVAC system, you will want to setup a cleaning and inspection every year. You wouldn't likely let your car go a year without a checkup and service. It makes sense then that with such an investment in an HVAC system, you will want to keep it running at its best. We also make that step super easy. Please call today let us prove why we have been a favorite for so long.
At Youngberg Heating & Cooling our technicians are specially trained and certified to maintain, diagnose, and correct problems throughout the entire system. Our on-going training allows our technicians to correctly adjust system controls to recommended settings and test the performance of the entire system using specialized tools and test equipment.
One Hour Heating & Cooling proudly serving Payette, Parma, New Plymouth, Sweet. We provide Heating, Air Conditioning, and HVAC.