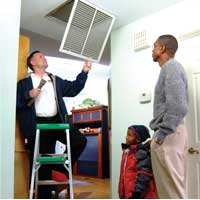 Heating
We are a leading firm for servicing your existing furnace, or those looking for buying a new one. We are recognized as one of the top quality home heating and cooling firms in the area. As such since receiving the prestigious Technician Seal of Safety award you can know you are dealing with quality professionals, and that your safety, family and the well-being of the security of your home will be protected.
Air Conditioning
Air-Conditioner Tune-Up, Cleaning and Safety Inspection
Keep Your Air-Conditioner at Peak Efficiency with an Annual Tune-Up
Tune-up your air-conditioner and Youngberg Heating & Cooling guarantee you a 100% profit in energy savings – or your money back!
HVAC
Size of the system and efficiency is vital when installing or when deciding to replace your HVAC system. There are so many manufacturers and technology choices on the market it is important to work with someone that knows them all and can find the best options for your situation. With One Hour Heating & Air Conditioning here in we can easily walk you through the process. From your first phone call today till the project is done, you will know you've chosen the best company to do this work for you.
Utility Savings Guarantee You will save a minimum of 30% on your heating and cooling costs or we will refund double-the-difference of your savings not realized during the first year. (If your system is not meeting guaranteed savings, you must notify us immediately to allow us to evaluate your system's performance.)
One Hour Heating & Cooling proudly serving Payette, Parma, New Plymouth, Sweet. We provide Heating, Air Conditioning, and HVAC.