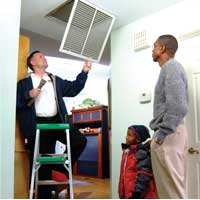 Heating
Safety First
A defective furnace can emit dangerous levels of carbon monoxide. Carbon monoxide is an odorless, colorless, deadly gas. It can kill you before you know it because you can't see it, taste it or smell it. At lower levels of exposure, it can cause health problems. Some people may be more vulnerable to carbon monoxide poisoning such as fetuses, infants, children, senior citizens and those with heart or lung problems.
Air Conditioning
Remember that to keep your Air Conditioner at Peak Efficiency it is important to do an annual tune up which will safeguard your family and your investment. The technicians perform a 60 – 90 minute precision tune-up and also a professional cleaning that includes a 21 point inspection. Call and ask us the questions you still have. We are glad to help.
HVAC
seamlessly Getting an HVAC system built correctly is an Engineering Science. Heating, Ventilation, and Air Conditioning and Air Quality all need to work together seamlessly to keep a healthy and comfortable internal space. With over 30 years in this business Youngberg's One Hour has the experience from continuous training to make sure that you can get the best system possible for your home or office.
At Youngberg Heating & Cooling our technicians are specially trained and certified to maintain, diagnose, and correct problems throughout the entire system. Our on-going training allows our technicians to correctly adjust system controls to recommended settings and test the performance of the entire system using specialized tools and test equipment.
One Hour Heating & Cooling proudly serving Payette, Parma, New Plymouth, Sweet. We provide Heating, Air Conditioning, and HVAC.