Air Conditioning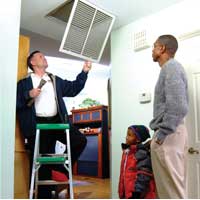 Air-Conditioner Tune-Up, Cleaning and Safety Inspection
Keep Your Air-Conditioner at Peak Efficiency with an Annual Tune-Up
Tune-up your air-conditioner and Youngberg Heating & Cooling guarantee you a 100% profit in energy savings – or your money back!
No Lemons Guarantee If the compressor in your air conditioner fails twice in the first five years, we will install a complete and new outside unit. If the heat exchanger in your furnace fails in the first ten years, we will install a new furnace.