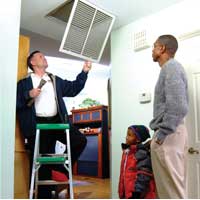 Heating
Safety First
A defective furnace can emit dangerous levels of carbon monoxide. Carbon monoxide is an odorless, colorless, deadly gas. It can kill you before you know it because you can't see it, taste it or smell it. At lower levels of exposure, it can cause health problems. Some people may be more vulnerable to carbon monoxide poisoning such as fetuses, infants, children, senior citizens and those with heart or lung problems.
Air Conditioning
Having air conditioner troubles? Proper maintenance is worth every penny. If you are thinking it might be time to replace your system, check with us first. Our technicians can do wonders at repairing and optimizing Air Conditioning systems.
If the time has truly come to replace your system we will give you the best options for getting the job done right. With over 30 years servicing , Oregon Youngberg's One Hour Heating & Air Conditioning will walk you easily through each step of the process.
HVAC
Size of the system and efficiency is vital when installing or when deciding to replace your HVAC system. There are so many manufacturers and technology choices on the market it is important to work with someone that knows them all and can find the best options for your situation. With One Hour Heating & Air Conditioning here in we can easily walk you through the process. From your first phone call today till the project is done, you will know you've chosen the best company to do this work for you.
No Lemons Guarantee If the compressor in your air conditioner fails twice in the first five years, we will install a complete and new outside unit. If the heat exchanger in your furnace fails in the first ten years, we will install a new furnace.
One Hour Heating & Cooling proudly serving Nyssa, Ontario, Vale. We provide Heating, Air Conditioning, and HVAC.