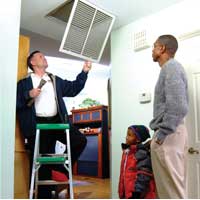 Heating
We are a leading firm for servicing your existing furnace, or those looking for buying a new one. We are recognized as one of the top quality home heating and cooling firms in the area. As such since receiving the prestigious Technician Seal of Safety award you can know you are dealing with quality professionals, and that your safety, family and the well-being of the security of your home will be protected.
Air Conditioning
Remember that to keep your Air Conditioner at Peak Efficiency it is important to do an annual tune up which will safeguard your family and your investment. The technicians perform a 60 – 90 minute precision tune-up and also a professional cleaning that includes a 21 point inspection. Call and ask us the questions you still have. We are glad to help.
HVAC
Also when it comes to maintaining your HVAC system, you will want to setup a cleaning and inspection every year. You wouldn't likely let your car go a year without a checkup and service. It makes sense then that with such an investment in an HVAC system, you will want to keep it running at its best. We also make that step super easy. Please call today let us prove why we have been a favorite for so long.
Property Protection Guarantee All property such as lawns, shrubbery, carpeting, floors, walls, furniture and door frames are protected. Damaged property will be replaced or repaired. Protective shoe covers and hall runners will be used on all work and traffic areas.
One Hour Heating & Cooling proudly serving Nyssa, Ontario, Vale. We provide Heating, Air Conditioning, and HVAC.