Furnace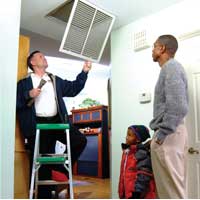 Youngberg's One Hour Heating and Air Conditioning slogan is Always on Time or You Don't Pay a Dime. We offer straightforward pricing, and are skilled professionals in the HVAC field. Youngberg's has received the prestigious Technician Seal of Safety™ award so you know you're dealing with a professional who cares about your personal safety, the safety of your family, and the well-being and security of your home. Call us today at ( ) - for a no obligation comfort survey and free consultation on your heating and air conditioning system.
If you are looking for skilled professionals to help with your furnace and heating needs you have come to the right place! Youngberg Heating and Cooling has gained recognition as the leader in service and installation of top quality home heating and cooling systems in , Oregon.
$250 No-Frustration Guarantee If your system breaks down and leaves you without heating or cooling for more than 24 hours from when you notify us, we will pay you $250 for your inconvenience.