HVAC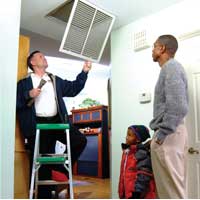 seamlessly Getting an HVAC system built correctly is an Engineering Science. Heating, Ventilation, and Air Conditioning and Air Quality all need to work together seamlessly to keep a healthy and comfortable internal space. With over 30 years in this business Youngberg's One Hour has the experience from continuous training to make sure that you can get the best system possible for your home or office.
Also when it comes to maintaining your HVAC system, you will want to setup a cleaning and inspection every year. You wouldn't likely let your car go a year without a checkup and service. It makes sense then that with such an investment in an HVAC system, you will want to keep it running at its best. We also make that step super easy. Please call today let us prove why we have been a favorite for so long.
We stand behind our installations with the most comprehensive guarantees in the industry:
Comfort Guarantee - 2-year system performance!


Exclusive 'No Lemons' Guarantee - 5/10 year replacement guarantee!


Utility Savings Guarantee - Save 30% in utility costs or we pay double the difference!


No Frustration Guarantee - Repairs complete within 24 hours or we pay you $500!


Installation Date Guarantee - We will arrive when promised or pay you $500!


Property Protection - Should anything get damaged, we'll take care of it!