Heating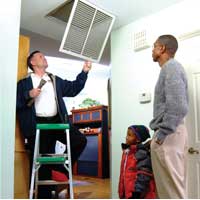 Keep in mind that to keep your furnace at Peak Efficiency it is important to do an annual tune up and safeguard your family with the peace of mind they deserve. Our technicians will perform a 60 – 90 minute precision tune-up and professional cleaning which includes 21 various operations.
We are a leading firm for servicing your existing furnace, or those looking for buying a new one. We are recognized as one of the top quality home heating and cooling firms in the area. As such since receiving the prestigious Technician Seal of Safety award you can know you are dealing with quality professionals, and that your safety, family and the well-being of the security of your home will be protected.
At Youngberg Heating & Cooling our technicians are specially trained and certified to maintain, diagnose, and correct problems throughout the entire system. Our on-going training allows our technicians to correctly adjust system controls to recommended settings and test the performance of the entire system using specialized tools and test equipment.