Air Conditioning Repair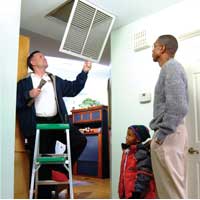 repairing Central Air Conditioners consist of two separate components the condenser and the evaporator. The condenser unit is located outside the hour typically. The evaporator unit is mounted in the main duct junction above the furnace. Most air conditioning repairs are required to these two components.
Property Protection Guarantee All property such as lawns, shrubbery, carpeting, floors, walls, furniture and door frames are protected. Damaged property will be replaced or repaired. Protective shoe covers and hall runners will be used on all work and traffic areas.