$10 Off Air Conditioning and Heating Tune-Up
Call (208) 578-4808 For More Details.
Heating System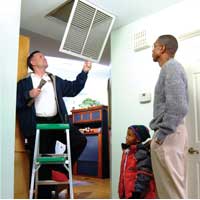 A variety of different heating systems are available for your home. Heat Pump heating systems are for climates with moderate heating and cooling needs. Heat pumps offer an energy efficient alternative to furances and air conditioners. Heat pumps use electricity to move heat from a cool space to a warm space. Heat pumps can trim the amount of electricity you use by as much as 30% to 40% according to energy.gov
Your home's furnace and air conditioner is one of the most expensive appliances you have in your home. Home heating and air-conditioning systems control the temperature, humidity, and air quality in your home. These systems consist of complex mechanical, electrical, and electronic components, such as motors, compressors, pumps, fans, ducts, pipes, thermostats, and switches.

How Was Your Experience?


Other's Experiences with One Hour Heating & Cooling , Idaho
Average Rating
4.83
out of
5
stars based on 58 reviews. Displaying a total of:
10
reviews.





Bryan D.
Dale is extremely knowledgeable.





Marvin O.
Bow - Great personality.





Kimberli M., Boise
Very friendly people...I'm impressed with your business





Floyd H., Weiser
They cleaned up so well, I couldn't even tell they'd been there.





Margaret S., Payette
Very generous...very very good service...best technicians I've ever seen.





Dixie B
Dale - Neat appearance, friendly, courteous, effecient & helpful.





Robert L, Council
We are confident Bow did a good job.





Barbara D.
Dales does an excellent job & we appreciate his explanations.





Juanita F
Always on time. We appreciate the care we get!





Georgia P. Weiser
I am so happy & pleased with your service...you have an A+ team!