$10 Off Air Conditioning and Heating Tune-Up
Call (208) 578-4808 For More Details.
New AC Unit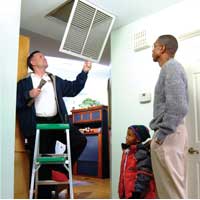 Youngberg One Hour Heating and Cooling has always made it one our principals to tune-up, clean and make sure your A/C unit is safe and operating properly. If your A/C unit is having issues with these items we will inform you and let you know your options. Many times furnaces and A/C units can be fixed without putting a new a/c unit into place.
Your home's furnace and air conditioner is one of the most expensive appliances you have in your home. Home heating and air-conditioning systems control the temperature, humidity, and air quality in your home. These systems consist of complex mechanical, electrical, and electronic components, such as motors, compressors, pumps, fans, ducts, pipes, thermostats, and switches.

How Was Your Experience?


Other's Experiences with One Hour Heating & Cooling , Idaho
Average Rating
4.83
out of
5
stars based on 58 reviews. Displaying a total of:
12
reviews.





Bob & Bev S., Ontario
Of course the bottom line - we got a great job with wonderful, controllable, and quiet A/C and I'm sure the heating will be the same when that season rolls around.





Derrell & Peggy C., Payette
Everone we worked with on this project was very courteous, professional, and respectful of our time. The home and office were protected so that no damage was done during the installation. We highly recommend the folks at Youngberg Heating & Cooling!





Jerom J, Parma
Reliable Quick Service. Tech: Dale





Lillian L.
Rhonda & Dale are both assetts to company.





Bob & Donna W
Brandon & Jason - Great as usual!





Unknown
Dale - the Tech was very personable.





Melissa S
Dale - Great job.





Rashae D
It is great to be able to have Dale (the same technician each time) come because he knows our unit.





Les M.
Very grateful in the tips and quick service. Tech: Bow
Tony K., Ontario
I had a house full of people 40+ and no air cond. on Sat. eve. Tech, Dale





Merlin M.
He does a good job. Tech: Dale





Erelene D, Fruitland
Very helpful & nice. Tech: Bow