$10 Off Air Conditioning and Heating Tune-Up
Call (208) 578-4808 For More Details.
Furnace Repair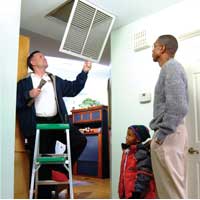 Your home's furnace and air conditioner is one of the most expensive appliances you have in your home. Home heating and air-conditioning systems control the temperature, humidity, and air quality in your home. These systems consist of complex mechanical, electrical, and electronic components, such as motors, compressors, pumps, fans, ducts, pipes, thermostats, and switches.

How Was Your Experience?


Other's Experiences with One Hour Heating & Cooling , Idaho
Average Rating
4.83
out of
5
stars based on 58 reviews. Displaying a total of:
11
reviews.





Robert L, Council
We are confident Bow did a good job.





Juanita F
Always on time. We appreciate the care we get!





Dan Winder
Brandon & Jason Your employees did excellent work!





Debra C, Vale
Great service I would recommend to anyone. Tech: Dale





Jean N.
Your tech was personable, knowledgable and punctual. Tech: Bow





Erelene D, Fruitland
Very helpful & nice. Tech: Bow





Dixie B
Dale - Neat appearance, friendly, courteous, effecient & helpful.





Barbara D.
Dales does an excellent job & we appreciate his explanations.





Les M.
Very grateful in the tips and quick service. Tech: Bow





Stanley P., Ontario
I've never had the level of service that you gave me, never!





Georgia P. Weiser
I am so happy & pleased with your service...you have an A+ team!