$10 Off Air Conditioning and Heating Tune-Up
Call (208) 578-4808 For More Details.
HVAC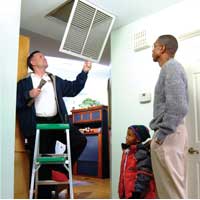 seamlessly Getting an HVAC system built correctly is an Engineering Science. Heating, Ventilation, and Air Conditioning and Air Quality all need to work together seamlessly to keep a healthy and comfortable internal space. With over 30 years in this business Youngberg's One Hour has the experience from continuous training to make sure that you can get the best system possible for your home or office.
Your home's furnace and air conditioner is one of the most expensive appliances you have in your home. Home heating and air-conditioning systems control the temperature, humidity, and air quality in your home. These systems consist of complex mechanical, electrical, and electronic components, such as motors, compressors, pumps, fans, ducts, pipes, thermostats, and switches.

How Was Your Experience?


Other's Experiences with One Hour Heating & Cooling , Idaho
Average Rating
4.83
out of
5
stars based on 58 reviews. Displaying a total of:
10
reviews.





Derrell & Peggy C., Payette
Everone we worked with on this project was very courteous, professional, and respectful of our time. The home and office were protected so that no damage was done during the installation. We highly recommend the folks at Youngberg Heating & Cooling!










Jean N.
Your tech was personable, knowledgable and punctual. Tech: Bow





Rob F., New Plymouth
Absolutely performed far above anything I expected.





Merlin M.
He does a good job. Tech: Dale





Joyce C
Bow - Very pleased with service!





Rashae D
It is great to be able to have Dale (the same technician each time) come because he knows our unit.





Victoria R
Dale He was willing to discuss another furnace set me up.




Paul G
Thank you it works much better. Tech: Bow





Kimberli M., Boise
Very friendly people...I'm impressed with your business