$10 Off Air Conditioning and Heating Tune-Up
Call (208) 578-4808 For More Details.
Radiant Heating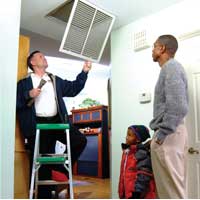 Radiant Heating systems supply heat directly to the floor or to the panels in the wall or ceiling of a house. These systems depend largely on radiant heat transfer. Give us a call to find out what solution might be most effective for your home. There are many options available for heating and cooling homes. Give us a call today for a free consultation. (208) 578-4808
Your home's furnace and air conditioner is one of the most expensive appliances you have in your home. Home heating and air-conditioning systems control the temperature, humidity, and air quality in your home. These systems consist of complex mechanical, electrical, and electronic components, such as motors, compressors, pumps, fans, ducts, pipes, thermostats, and switches.

How Was Your Experience?


Other's Experiences with One Hour Heating & Cooling , Oregon
Average Rating
4.83
out of
5
stars based on 58 reviews. Displaying a total of:
11
reviews.





Florence C, Payette
Dale very courteous.





Juanita F
Always on time. We appreciate the care we get!





Rob F., New Plymouth
Absolutely performed far above anything I expected.





Georgia P. Weiser
I am so happy & pleased with your service...you have an A+ team!










Dan Winder
Brandon & Jason Your employees did excellent work!





Lillian L.
Rhonda & Dale are both assetts to company.




Jerry P
It was goog! Dale sucked me into the maintenance agreement. His is a great rep for you business. At 100 plus we really appreciate Dale taking care of us so quickly!





Stephen B.
Dale - Very professional, clean, honest, straight forward.
Tony K., Ontario
I had a house full of people 40+ and no air cond. on Sat. eve. Tech, Dale





Dixie B
Dale - Neat appearance, friendly, courteous, effecient & helpful.