Over time, household air ducts become contaminated with particles of dust, pollen and other debris that can cause allergic reactions or other symptoms in people exposed to contaminates. If moisture is present in your air ducts, the potential for microbiological growth (e.g., mold) is increased and spores may be released into your home's living space every time your air-conditioner or furnace is running. Youngberg Heating & Cooling provides top-quality Air Duct Cleaning to remove contaminates and Air Filtration to help keep your home's air clean and healthy.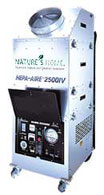 ToraVac® Air Duct Cleaning
Youngberg Heating & Air Conditioning is an authorized ToraVac representative – the only home air duct cleaning system guaranteed to make your home cleaner and more comfortable. For whole-house duct cleaning we rely on equipment designed by one of the nations leading duct cleaning equipment manufacturers. We use specialized equipment and techniques that ensures your home receives a complete and thorough air duct and furnace-cleaning job. Major components of your home's heating and air-conditioning system are thoroughly cleaned and inspected.
Our technicians use tools designed specifically to dislodge dirt and debris in air ducts such as a serpentine spinning brush. To remove the accumulated debris we use a high-powered ToraVac vacuum system equipped with a HEPA filter that ensures complete removal of all loosened dirt and contaminates while keeping your house clean.
All Youngberg Heating & Cooling products come with a 100% satisfaction guarantee!
Call today (208) 642-9846 for a no obligation air quality survey.
$50 Clean Air Coupon
AIR DUCT CLEANING, AIR DUCT SEALING, AND AIR FILTRATION EQUIPMENT & INSTALLATION
Keep the Air in Your Home Clean by Cleaning and Sealing Your Air Ducts and Installing Air Filtration Equipment for Your Entire House
Call 208-642-9846 to request a
FREE Whole House Clean Air Estimate.