Air Conditioning Repair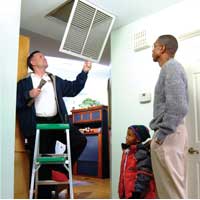 Most air conditioning units are connected to a home's forced air system. Since this being the case the same motor, blower and duct work are used for both heating and cooling the home. Hot air is moved by the blower across the evaporator coil and is delivered through the ducts to cool the house. Typically many issues found with air conditioning needing repair occurs in these components.
Comfort Guarantee We guarantee that the system(s) we have installed in your home will heat or cool your home as we have stated. If the temperature range we have promised is not achieved, we will replace the system at no charge.