Air Conditioning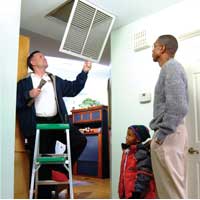 Air-Conditioner Tune-Up, Cleaning and Safety Inspection
Keep Your Air-Conditioner at Peak Efficiency with an Annual Tune-Up
Tune-up your air-conditioner and Youngberg Heating & Cooling guarantee you a 100% profit in energy savings – or your money back!
We are recognized as one of the highest rated home Heating & Air Conditioning firms in the area. As such we have received the prestigious Technician Seal of Safety award and are a top Rated Better Business Bureau company. You will know from the first phone call that you are dealing with quality professionals, and that your comfort and safety are a top priority.
At Youngberg Heating & Cooling our technicians are specially trained and certified to maintain, diagnose, and correct problems throughout the entire system. Our on-going training allows our technicians to correctly adjust system controls to recommended settings and test the performance of the entire system using specialized tools and test equipment.