Air Conditioning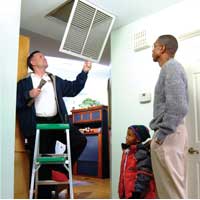 Air-Conditioner Tune-Up, Cleaning and Safety Inspection
Keep Your Air-Conditioner at Peak Efficiency with an Annual Tune-Up
Tune-up your air-conditioner and Youngberg Heating & Cooling guarantee you a 100% profit in energy savings – or your money back!
100% Money Back Guarantee We guarantee that the equipment we have installed will perform as we have stated. If the system does not heat or cool your home to your satisfaction, we will remove it and return 100% of your investment.