Air Conditioning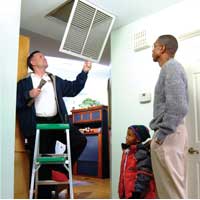 Having air conditioner troubles? Proper maintenance is worth every penny. If you are thinking it might be time to replace your system, check with us first. Our technicians can do wonders at repairing and optimizing Air Conditioning systems.
If the time has truly come to replace your system we will give you the best options for getting the job done right. With over 30 years servicing , Idaho Youngberg's One Hour Heating & Air Conditioning will walk you easily through each step of the process.
No Lemons Guarantee If the compressor in your air conditioner fails twice in the first five years, we will install a complete and new outside unit. If the heat exchanger in your furnace fails in the first ten years, we will install a new furnace.