$10 Off Air Conditioning and Heating Tune-Up
Call (208) 578-4808 For More Details.
Heat Pump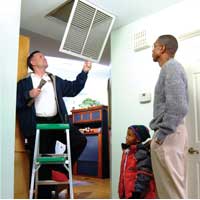 Heat Pumps are definitely receiving a surge in popularity due to declining costs and technical advancements. Originally they were noisy and unreliable machines. These days the systems are quiet, reliable, and normally cost less to heat a home than other options including other Electric, Oil, and Gas systems. The Idahoclimate is a perfect fit for heat pumps. When the heating bills are hotter than your house, you need to look at the alternatives. The initial investment might seem high to start, but the long term savings with a Heat Pump will almost always make it worth it.
Your home's furnace and air conditioner is one of the most expensive appliances you have in your home. Home heating and air-conditioning systems control the temperature, humidity, and air quality in your home. These systems consist of complex mechanical, electrical, and electronic components, such as motors, compressors, pumps, fans, ducts, pipes, thermostats, and switches.

How Was Your Experience?


Other's Experiences with One Hour Heating & Cooling , Idaho
Average Rating
4.83
out of
5
stars based on 58 reviews. Displaying a total of:
10
reviews.





Derrell & Peggy C., Payette
Everone we worked with on this project was very courteous, professional, and respectful of our time. The home and office were protected so that no damage was done during the installation. We highly recommend the folks at Youngberg Heating & Cooling!





Juanita F
Always on time. We appreciate the care we get!





Rosa R.
We appreciated Dales work & friendliness. Tech: Dale





William & Pat J
""The new furnace and heat pump have performed beyond our expectations. Our electric energy use dropped by 65% for heating and 25% for cooling. This translated into a drop of $99 per month on our level pay electric bill. In addition, our house is much more comfortable. We couldn't be more pleased with the service and professionalism of Youngberg's and their technicians, and recommend them very highly.





Glen V.
Great Job! Tech: Dale





Lillian L.
Rhonda & Dale are both assetts to company.










Bob & Bev S., Ontario
Of course the bottom line - we got a great job with wonderful, controllable, and quiet A/C and I'm sure the heating will be the same when that season rolls around.





Les M.
Very grateful in the tips and quick service. Tech: Bow





Debra C, Vale
Great service I would recommend to anyone. Tech: Dale