$10 Off Air Conditioning and Heating Tune-Up
Call (208) 578-4808 For More Details.
Radiant Heating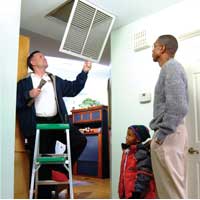 Radiant heating is a technology for heating indoor and outdoor areas. Heating this rout is observed each day by warmth of the sunshine being probably the most commonly observed. Radiant heating can be done via many different ways including under floor heating systems both electric and hydraulic, wall heating systems, and by radiant ceiling panels.
Radiant Heating systems supply heat directly to the floor or to the panels in the wall or ceiling of a house. These systems depend largely on radiant heat transfer. Give us a call to find out what solution might be most effective for your home. There are many options available for heating and cooling homes. Give us a call today for a free consultation. (208) 578-4808
At Youngberg Heating & Cooling our technicians are specially trained and certified to maintain, diagnose, and correct problems throughout the entire system. Our on-going training allows our technicians to correctly adjust system controls to recommended settings and test the performance of the entire system using specialized tools and test equipment.

How Was Your Experience?


Other's Experiences with One Hour Heating & Cooling , Idaho
Average Rating
4.83
out of
5
stars based on 58 reviews. Displaying a total of:
11
reviews.





Rob F., New Plymouth
Absolutely performed far above anything I expected.





Florence C, Payette
Dale very courteous.





Debra C, Vale
Great service I would recommend to anyone. Tech: Dale










William & Pat J
""The new furnace and heat pump have performed beyond our expectations. Our electric energy use dropped by 65% for heating and 25% for cooling. This translated into a drop of $99 per month on our level pay electric bill. In addition, our house is much more comfortable. We couldn't be more pleased with the service and professionalism of Youngberg's and their technicians, and recommend them very highly.





Kimberli M., Boise
Very friendly people...I'm impressed with your business





Bob & Donna W
Brandon & Jason - Great as usual!





Bob & Bev S., Ontario
Of course the bottom line - we got a great job with wonderful, controllable, and quiet A/C and I'm sure the heating will be the same when that season rolls around.





Stanley P., Ontario
I've never had the level of service that you gave me, never!





Dixie B
Dale - Neat appearance, friendly, courteous, effecient & helpful.