$10 Off Air Conditioning and Heating Tune-Up
Call (208) 578-4808 For More Details.
Home Heating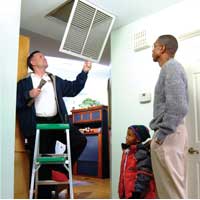 Efficiency of your furnace is crucial when looking at repairing or even replacing your furnace. With so many choices out on the market it is important to research and understand options that are available for you. With One Hour Heating and Air Conditioning based in Idahowe can educate you on what is available on the market!
Your home's furnace and air conditioner is one of the most expensive appliances you have in your home. Home heating and air-conditioning systems control the temperature, humidity, and air quality in your home. These systems consist of complex mechanical, electrical, and electronic components, such as motors, compressors, pumps, fans, ducts, pipes, thermostats, and switches.

How Was Your Experience?


Other's Experiences with One Hour Heating & Cooling , Idaho
Average Rating
4.83
out of
5
stars based on 58 reviews. Displaying a total of:
9
reviews.





Dixie B
Dale - Neat appearance, friendly, courteous, effecient & helpful.




Larry F
Brandon - Great attitude & explain things very good.





Jean N.
Your tech was personable, knowledgable and punctual. Tech: Bow





Betty T
Dale Appreciates his politness & my dog likes him.





Paul & Shirley S., Payette
It was actually a pleasant experience. We're happy to recommend your company to anyone!





Barbara D.
Dales does an excellent job & we appreciate his explanations.





Derrell & Peggy C., Payette
Everone we worked with on this project was very courteous, professional, and respectful of our time. The home and office were protected so that no damage was done during the installation. We highly recommend the folks at Youngberg Heating & Cooling!





Robert L, Council
We are confident Bow did a good job.