Air Conditioning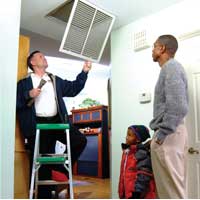 We are recognized as one of the highest rated home Heating & Air Conditioning firms in the area. As such we have received the prestigious Technician Seal of Safety award and are a top Rated Better Business Bureau company. You will know from the first phone call that you are dealing with quality professionals, and that your comfort and safety are a top priority.
Air-Conditioner Tune-Up, Cleaning and Safety Inspection
Keep Your Air-Conditioner at Peak Efficiency with an Annual Tune-Up
Tune-up your air-conditioner and Youngberg Heating & Cooling guarantee you a 100% profit in energy savings – or your money back!
Comfort Guarantee We guarantee that the system(s) we have installed in your home will heat or cool your home as we have stated. If the temperature range we have promised is not achieved, we will replace the system at no charge.