Heating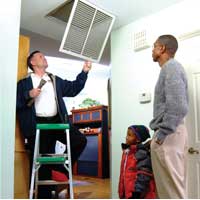 Efficiency of your furnace is crucial when looking at repairing or even replacing your furnace. With so many choices out on the market it is important to research and understand options that are available for you. With One Hour Heating and Air Conditioning based in Oregonwe can educate you on what is available on the market!
We are a leading firm for servicing your existing furnace, or those looking for buying a new one. We are recognized as one of the top quality home heating and cooling firms in the area. As such since receiving the prestigious Technician Seal of Safety award you can know you are dealing with quality professionals, and that your safety, family and the well-being of the security of your home will be protected.
$250 No-Frustration Guarantee If your system breaks down and leaves you without heating or cooling for more than 24 hours from when you notify us, we will pay you $250 for your inconvenience.